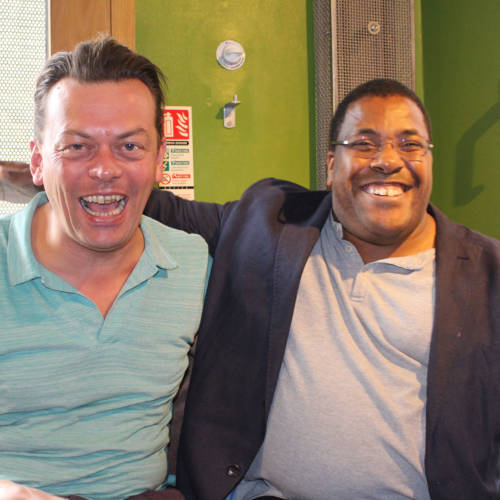 S2 Ep10: Roy Williams talks to Simon Stephens
When Roy Williams' first play No Boys Cricket Club launched him into the London theatre world in 1996 it was celebrated for the audacity and range of its theatrical imagination. At a time when new playwrights were often being encouraged to write simple plays for studio theatres, Roy Williams wrote a play that travelled across oceans, across continents and back in time charting the life of a woman inspired by his own mother. He was part of a generation of playwrights, many of whom wrote with different agendas and with different perspectives, who together re-energised British playwriting forever. The play was the start of a career that has been defined by its prolific energy, dramaturgical range and insistent interrogation of the existential nature of identity.
His early plays for the Royal Court Lift Off in 1999 and Clubland in 2002 marked a bold and compelling interrogation of young London men trying to make sense of their relationship to their own race. Compassionate and flinty by turns they established Roy as a writer of real significance. But it was his next play for the Royal Court, the coruscating Fallout, a dramatic investigation of the policing of hate crime and his plays Sing your Hearts out for the Lads for the National Theatre and Days of Significance for the Royal Shakespeare Company that saw him stretch the political and formal considerations of his work write, in the space of a few years, three of the most significant political plays of the last decade.
Roy Williams marked himself as a dramatist who looked as unflinchingly at nationalist politics as he did at the brutality of militarisation, at violence in policing, as he did at murder on London streets and at the pathos and failure of Kevin Keegan's management as he did at the possibility of tenderness in a city defined by violence.
The following decade has seen his search expand. He has written adaptations of films and novels for theatres on both sides of the Atlantic. He has also written for young actors and a musical biography of soul legend Marvin Gaye. His most recent play produced by the Royal Court, the ferocious and tender Sucker Punch, brilliantly directed by Sacha Wares in 2010, saw his typical tenderness and savagery staged with a deftness and ambition that matched his writing.
He is a writer compelled by many ideas and many worlds and has, also,  been celebrated for the honesty and dignity with which he has dramatized Black Britain. His presence as a role model for young Black theatre artist has seen him lauded at international level.  But for me it his insistent fascination with the same existential questions that define his early plays, with our sense of self when our identities sit so harshly at odds with the cultural constructs of what we're meant to be like whether those constructs are established on racial, gender, sexual, economic or professional lines that unify his work and make him one of my generations most important playwrights.