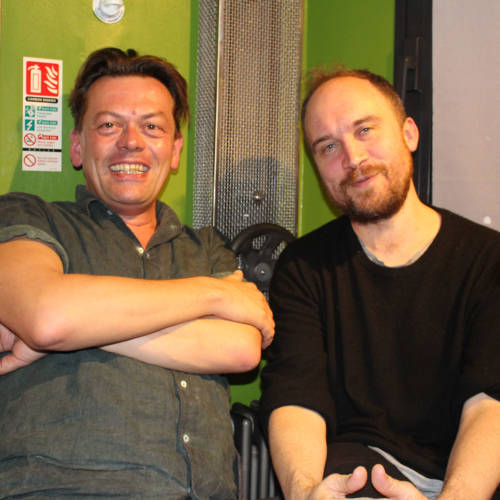 S2 Ep14: Chris Thorpe talks to Simon Stephens
There are very few writers I have interviewed or will interview in these podcasts whose curriculum vitae is longer than mine. And certainly none of those are some years younger than me. In this sense, in both his remarkable youth and strikingly prolific output Chris Thorpe has, over the past seventeen years, proven himself quite spectacular.
The founding member of Unlimited Theatre and Artistic Associate of Third Angel, he established himself when there seemed to be a clear, sometimes strident distinction between theatre makers and playwrights. And in that establishment asked, for me, quite thrilling questions about the function of the writer in the making of theatre. He was a writer who was also a performer and a quite brilliant one at that. He was a playwright with a clear and singular voice who was also a collaborator and celebrated co-author.
Collaborations have been at the centre of his most striking work. He made The Oh Fuck Momenta and I Wish I Was Lonely with poet Hannah Jane Walker; and the extraordinary Torycore with Lucy Ellinson for Forest Fringe (setting key extracts from conservative policy to death metal). He has worked with Rachel Chavkinfron of New York's TEAM Theatre Company; written a version of Beowulf for young audiences at the Unicorn Theatre; worked regularly with Chris Goode and has an ongoing collaboration with Portuguese company Mala Voadora.
I first came across him when I saw There has Possibly been an Incident at the Soho Theatre Company. It was a striking play. Chilling in the detail of its excavation of singular acts of political defiance, precise in its wit and insight and ferociously bold in its form. It has been produced widely throughout Europe and lives with me but, although one of my favourite experiences in my career has been seeing Chris perform Incident himself at the Berlin Stuckmarkt, it is a piece that is not dependent on his presence as a performer. Like with his brilliant play Victory Condition – depending on when you hear that Vicky Featherstone is about to direct in the Theatre Downstairs or it has opened with brilliant acclaim or instigated such ferocious controversy that it has brought about the closure of the entire Royal Court – and with Incident, he proved himself not just a great writer, an intelligent political explorer, a startling and charismatic performer of his own work but also a dramatist of range and imagination.