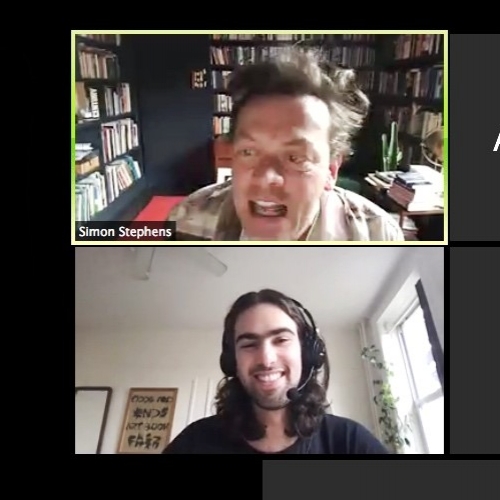 S5 Ep4: Sam Max talks to Simon Stephens
Series 5 of the Royal Court Playwright's Podcast was released in partnership with Berliner Theatertreffen Stückemarkt.
The following content may contain strong language.
Click here to return to the main podcast page.
To subscribe via iTunes click here.
To listen on Spotify click here.
This conversation has been transcribed and can be accessed here: https://royalcourttheatre.com/podcasts/playwrights-podcast-transcript-of-series-5-episode-4-sam-max-talks-to-simon-stephens/
You can watch a livestreamed performance of Sam Max's COOP here: https://digital.berlinerfestspiele.de/stueckemarkt/coop-deutsch-zaun
All readings/recordings will be available for 24 hours for the 18 May.
Full introduction by Simon Stephens:
The summaries on US new play database New Play Exchange, of the four plays by New York based writer Sam Max – each written over the last five years – return to a curious description. Their reimagining of Russian folk tale Pidor and the Wolf, hormone fuelled musical piece Twin Size Beds, apocalyptic break up play Driftwood, and juror's selection for the 2020/21 Stückemarkt, Coop, are all described as dark comedies.
I understand that such databases are dependent on simplification, and that Sam Max is another artist in this year's selection that is new to me, but to describe Coop, their poetic, haunting exploration of the yearning of a teenage girl in a nightmare of familial imprisonment as a dark comedy seems to me to miss its force. It does have at least three jokes that made me laugh out loud when I read it. But it is so much darker and stranger than the generic description implies.
Sam Max was born in Pennsylvania and graduated from the theatre department of the University of Evansville in Indiana.  Since moving to New York they have won the Robert Chesley/Victor Bumbalo Playwriting Award, received an Honourable Mention for the Relentless Award, and were named a member of the Young & Hungry List, tracking "Hollywood's Top 100 New Writers". Sam's work has been presented at Under the Radar Festival, National Sawdust and by the Museum of Sex at the celebrated Joe's Pub. They have been a resident artist at The Public Theatre, and have received awards from the Helene Wurlitzer Foundation, and the Foundation for Contemporary Arts. 
Coop, on one level is the story of Avery. A girl who lives on a farm, finds herself trapped in ritualised acts enacted by her parents and isolated from the outside world. Her resistance to this isolation and entrapment result in a murderous pact that echoes across the rural farmland that Max imagines their drama to play out in. But that synopsis does the play slight service. It is a play that blurs realities between a rural economic objectivity and the imaginative terrain of Avery's mind. It is set on a farmland where no farm life seems to survive. It is a story that plays out on a tarnished landscape of prayer and ritual, in which the family survive entirely on a diet of eggs. It is a play of blood and violence and stillness, defined by dream images, and in which the dead lose contact with us as though we are speaking to them on an unrealizable phone signal. It reads as though Harmony Korine had staged Beckett's Endgame on the landscape of Terrence Malick's Badlands. 
I loved its expiration of language. It is one of several pieces this Stückemarkt that seem to stage characters desperate to find the right word for their experience.
Sam Max is in the early years of their working life but judging from the level of interest their work has provoked and from the depth and clarity of imagination that defines Coop, they are one of those writers whose work over the coming decade has the potential to allow us to reimagine ourselves as we come out of the pandemic.